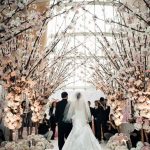 It's that time of the year, the air is getting crisp and fresh, the winter coats and gloves are out and we are in for a few months of cold and dark days.
Oh, but it's not all doom and gloom.. it's also the season of Winter Weddings! They are quite magical, with decorations and themes that could be a fairy tale.
Book your  Wedding Dates now, let's do your Makeup Trial and get you ready for the most magical day of your life!